Posted by Laura | November 28, 2016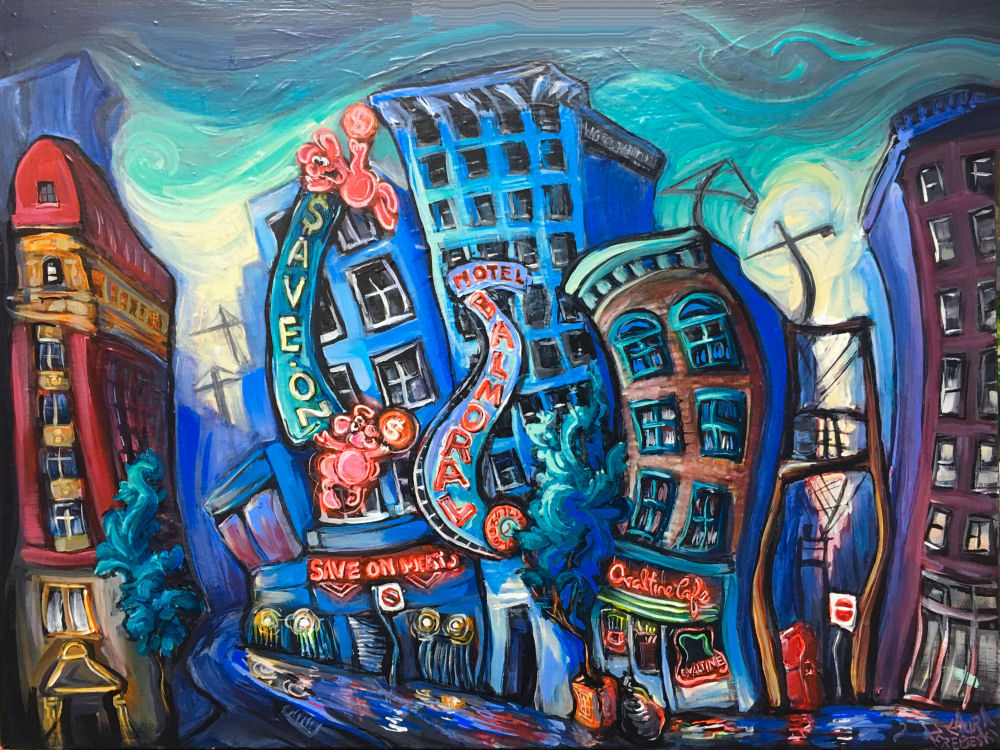 I illustrated the set for the 2016 East Van Panto again this year. This is far and away one of my favorite projects.  Here are some of the pieces and the local references.
The East Van Panto runs until December 31, 2016 and it will likely sell out as it did last year. Get tickets here: http://thecultch.com/events/an-east-van-panto-little-red-riding-hood/
The Main Backdrop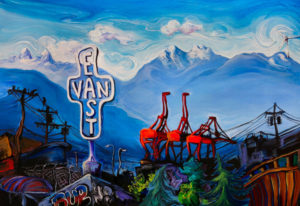 East Van is all about the mountains, the cross, and the cranes. Especially the cranes: they are visible from almost everywhere. They are the personification of labour and hard work because they lift heavy loads. The tough don't-mess-with-me side of East Van is also represented by darkly silhouetted industrial buildings, ominous transformer towers, and a barricade of chain-link fencing.
People who grew up in East Van remember the East Van Cross as a symbol of rebelliousness with a shady gang history. East Van youth would proudly scrawl the symbol on washroom walls as a way of saying, "We are here, don't forget about us, and don't mess with us."
We did a few updates to the drop to make it work for farther East Van setting of Red's House: more trees, a yard fence, and just a little less graffiti. In Panto tradition, we re-used parts from earlier pictures: Jack and the Beanstalk's fence, in this case.
---
Adanac Bike Route Scenery

The vantage of a fast-moving bicycle makes things blur together and seem like they're moving.
This is an array of what one might see in their peripheral vision while racing down the Adanac Bike Route.
---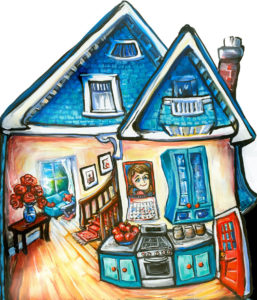 Red's House

Red lives in far East Van, probably in the Hastings Sunrise area. Her Dads have a well-appointed character house. The interior is possibly too well appointed: everything is matchy-matchy staged albeit comfortable high-end country chic and clean and shiny. Nonetheless, Red features prominently as both a decorating colour and tribute. It's a warm place filled with light and happy faces.
---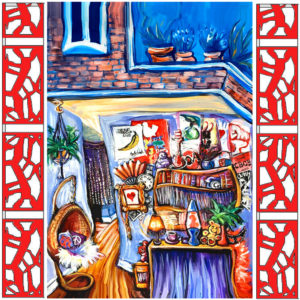 Grandma Roxy's Apartment

Grandma lives in the W building, presumably in one of the Jim Green social housing units.  Her apartment is colorful. She's a punk-hippie hybrid with decades of life experience as evidenced by her pop culture display. There are posters from Woodstock to Studio 58 to CBGB through The Clash and Vancouver's own DOA to Nirvana grunge. There are also a sprinkling of various activist posters like No Justice/No Peace, World Environment Day, and Occupy Wall Street. Her array of souvenirs – mardi gras beads, a hookah, a Buddha, and a feather boa – reflect her personality and legacy.
Moreover, she clearly has a way with her cannabis houseplants while her upstairs neighbors prefer air-quality enhancing lavender and snake plants.
---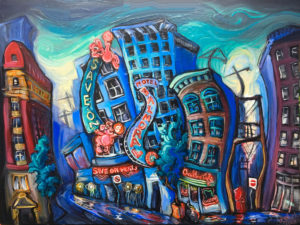 Downtown East Side Drop

This is a truncated view of Hastings Street. The Dominion Building, Save On Meats, Balmoral Hotel, and the Ovaltine Café are, in reality, really blocks away from each other but they are all some of the most characteristic architectural structures in Vancouver's Downtown east side. The overall tone is dark but the buildings are playful—dancing, even—and the classic neon signs light up the night. There's a balance of scary and quirky seen in the "faces" buried in the building facades. These are faces that seem scary until you get to know them.
Other menacing touches include the looming cranes in the background and the orange tree-protecting fences. These are Vancouver motifs of gentrification and demolition.
---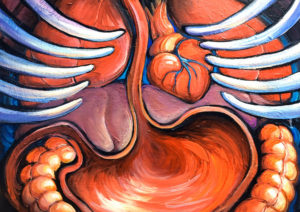 Wolf Stomach Drop

Lupine anatomy and human anatomy are not all that different. The same parts happen in the same order and look more or less the same in humans as they do in wolves.
This design includes a bit of inadvertent pareidolia. It's gross but playful because this whole interior looks a little bit like a face playing peekaboo with rib fingers, an intestinal grin, and, of course, guts and heart.
---