Posted by Laura | March 26, 2016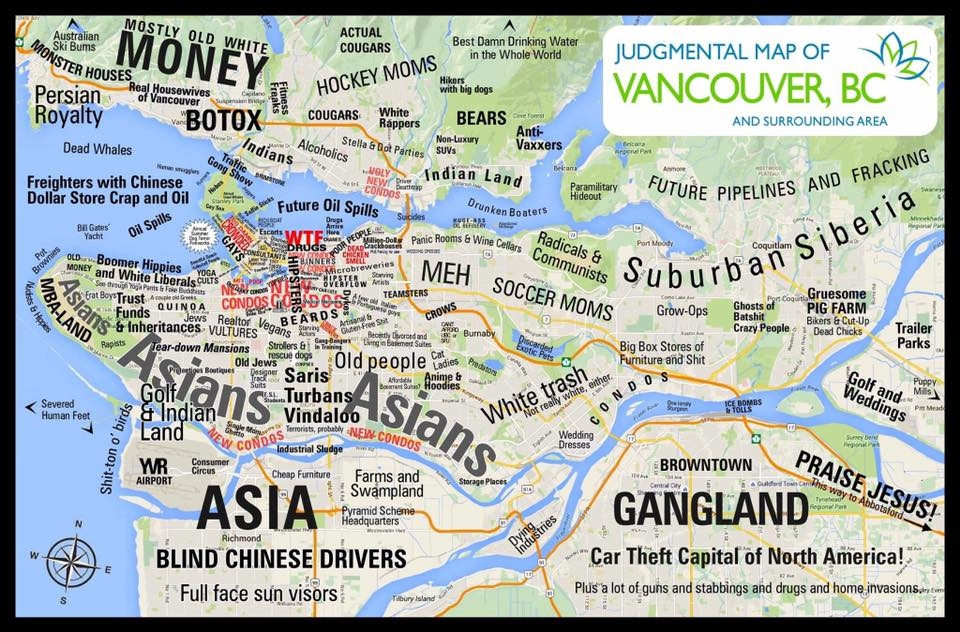 This one: http://www.cknw.com/2016/03/25/judgmental-map-of-vancouver-makes-rounds-on-social-media/
Sometime in September, 2015, I was reading another depressing article about Vancouver's affordability which came with the usual racist comment war. The Canadian election and issues around missing women, the real estate market, and industry vs. the environment dominated the headlines. There were also unrelated predictions that the world was going to end (again) and I was having a hard time painting my usual happy pictures of Vancouver. I came across the Judgmental Maps site and thought, okay, let's delve into all this nastiness and get it out. It'll be therapeutic.
So I made this map. It took a couple weeks. I put in some of the labels, asked friends for opinions on their own neighborhoods, and metonymized it all. There were still some blank areas so I went to the internet. I found anonymous web boards about Vancouver and filled in the rest with the most shocking comments I could find. I used to look at comment sections as a barometer of current thought patterns but anonymous comment sections are more like looking into humanity's abyss. This map is a word cloud of what I read, overheard, and processed about Vancouver.
I finished the map and submitted it to the friendly Judgmental Maps people. They got back to me but then I suspect they got busy. Hey, America has been dealing with a lot of stuff lately.
Six months later, complaints about Vancouver's affordability continue to escalate and the world seems even more racist. I was in the U.S. recently and USA Today ran a story about Vancouver's real estate next to a big picture of Donald Trump. I came across this map in my archives and I thought, man, this map is like a Donald Trump map-shaped word cloud. So I resubmitted it to the JM site (they told me they are getting around to it) and I posted it on Facebook. It went sorta viral, locally. My Facebook post got something like a thousand shares and six times as many likes and reactions in a couple of days and here we are.
VanCity Buzz said this map will "make you uncomfortable." No one likes to talk openly about racism in Vancouver. There's a class thing, a real estate thing, and all sorts of other things going on but it's still a pretty city that is a lot like most other cities and not especially worse or better despite what you read. Some of the words on this map are funny because they've been around for a long time. Others aren't.
The Judgmental Map motto is to "leave no one unoffended." Because never mind sticks and stones–of course words hurt and the idea of Judgmental Maps is that everyone is hurt all at once. Some of this is horrible. It's also a visual representation of what I've overheard or read. I suppose we should laugh at it, dismiss most of it, and try to do right by the ones that truly bother us.
Edited To Add 1: Look! More Judgmental Maps of Vancouver. New, improved, and with twice as much cynicism: http://judgmentalmaps.com/post/141842298460/vancouverbc
ETA 2: I posted my map on March 23. Two days earlier, the Georgia Straight ran this article: http://www.straight.com/life/662421/its-time-get-real-about-living-vancouver. This is zeitgeist, right?
ETA 3: Did this interview: http://bc.ctvnews.ca/yoga-cults-cougars-gangland-judgmental-map-of-vancouver-stirs-the-pot-1.2835448 with video here: http://bc.ctvnews.ca/video?clipId=837862. Here's another one for KISS-FM: http://www.kissradio.ca/2016/04/04/interview-artist-behind-judgmental-vancouver-map/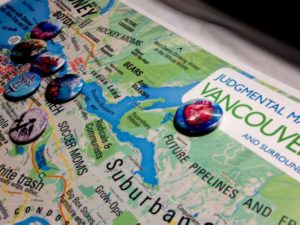 ETA 4: Posters are ready. They are 13″x19″ on heavier stock and even the finest fine print is legible. You can get them at the lovely Beaumont storefront, La Beautique for $22. Same address as my studio: 316 W. 5th Ave. It's open Mondays through Saturdays, 11:30 am to 6:30 pm.  Pop by studio 14 and if I'm there, I will make you a free button of your favorite Vancouver scene. Maybe two buttons if I've really offended you. Or you can leave awful racist graffiti on my whiteboard. 😉
ETA 5: Online ordering, custom sizes and/or text: If you absolutely cannot make it to the store and need one mailed to you, I can do that. Email me at laura@laurazee.com to let me know. I'll have to pick up shipping tubes and figure out what the postage would be. I take PayPal.
Some of you have asked for either a high-res file or a larger printed poster. Sorry, no file will be distributed but I can do two larger poster sizes: either 2 feet by 3 feet or 3 feet by 4 feet. I'll have to fiddle around with the file to make it work first. If you're interested in those sizes and have the wall space for it (lucky you!), let me know and I'll follow up on pricing. AND if you want any custom additions to the text, well, hey, we can talk